How To Start A Blog In Nigeria and Make Money
How To Start A Blog In Nigeria
latest Update on: How To Start A Blog In Nigeria..
How to Start a Blog & Make Money From it
What is a blog/Blogging?
A blog is basically a web log that a blogger makes use of for chronological listing of blog posts. A blog has the most recent content shown first followed by the previously updated content. A blog can easily be started with services like WordPress, Blogger, Joomla etc., that provides you with the entire system including design templates to begin. A blog thrives on new content and the more regularly it is updated, the more attention it will get. That doesn't mean tons of scraps will reap you a gold mine. Quality and regularly updated content are examples of a good blog.
Basic identification of Blogs:
A chronological listing of blog posts.
A commenting system that invites readers to participate in the communication and leave behind comments.
Blog posts are archived by date, category, author, tags and sub-categories.
RSS (Really Simple Syndication) feeds for posts and/or comments for feed-readers like Feedly, etc.
The Differences Between Blog and Website?
Have you ever wondered what the differences between a website and a blog could be? If yes, then:
Blogs are a type of website. The only real difference between a blog and other types of website is that blogs are regularly updated with new content, which is displayed in reverse chronological order (newer posts first).
Typical websites are static in nature where content is organized in pages, and they are not updated frequently. Whereas a blog is dynamic, and it is usually updated more frequently. Some bloggers publish multiple new articles a day.
Blogs can be part of a larger website. Often businesses have a blog section where they regularly create content to inform and educate their customers.
You can use WordPress to create both, a website and blog, that's why a lot of business owners use WordPress to build their small business website.
In simple terms, all blogs can be a website or part of a website. However, not all websites can be called blogs.
Why You should Start a Blog
How To Start A Blog In Nigeria and make money from it…
A blog is a great marketing tool for businesses, but the popularity of blogging is largely because it also offers ordinary people the opportunity to become stars as well as make a reasonable living from their blogs.
You can start a blog today and start making money with it if you follow the appropriate approach. But It takes time to build, maintain, and nurture a blog to become very profitable. This is why it is important to learn and know how to blog.
How To Start A Blog In Nigeria
How To Start A Blog In Nigeria
This is a step-by-step Guide on How To Start A Blog In Nigeria
Think And Decide What You Will Blog On
The first decision you should make after deciding to start a blog is to figure out what you will blog about. Some new bloggers fall into the trap of writing about everything that comes to mind.
Yes, blogging is about sharing your thoughts, research, and experience, but if you are interested in professional blogging that thought must be targeted at a clearly defined audience.
Remember that one of the goals of professional bloggers is to build a reputation. Certainly, you cannot build a reputation on everything.
You need to build a reputation on something. This is why before you start a blog, you have to give a long hard thought on what you want to be blogging about.
Your blog should be about your interest and passion. It should be about a topic you are happy discussing. It should be about something you are passionate about.
Passion is very important in blogging because it takes time and energy to build a reputation and make money from blogs and without passion you will certainly give up.
To discover your passion and interests you need to brainstorm. Ask yourself the following questions:
Which topic are you very good at?
What topics do you regularly discuss about with your friends?
What are your hobbies?
The type of movies do you watch
What do you spend your money on?
The types of books and magazines you read?
What types of websites do you regularly visit?
When picking what to write about, it is very important to choose a niche with a sizable audience. Do not choose a niche that is so unique that you are virtually the only person interested in it.
Choose a Domain Name
The domain name of your blog is its central address on the internet, for example the domain name of this blog is www.naijafocus.com.ng or Cashmender.com
A domain name is another little detail you need to get settled before you start a blog.
Tips on How to Choose A Good Domain Name
Here are some tips on how to choose a domain name for your blog:
Choose short memorable domain names: Some of the best domains are short and memorable.
Add your keyword to your domain:  If it is possible, add your major keyword to your domain name.
Consider future expansions: When choosing your domain name you need to consider the future expansion for your blog.
Use a popular TLD: Top Level Domains TLDs are letters that end a domain name eg. .com, .org, .net. .com is the most popular top level domain and should be your first choice. You can also try .org and .net in that order.
Avoid using other people's brand names and registered names: Avoid using business brand names in your domain or registered brand names. This will ensure you do not run into legal trouble tomorrow.
Finally, You have chosen a domain name for your blog, but the domain name does not become yours until you actually register it. Besides the domain you have chosen may have been bought by another person. So, you need to check if it has not been taken already first.
To register a domain name, you require the services of a domain name registrar. At the website of the domain name registrar you can check for the availability of the domain name you desire and if the domain name is available, you can buy it.
You may also decide to buy your domain name from your hosting company, which I will discuss in the next step. Similarly, you can also decide to host your blog with the domain name registrar.
There are a number of good domain name registrars which you can pay through bank deposit or using your Master or Visa card. I use Namecheap for my .com site and Qservers.net for my .com.ng domain.
Choose Where To Host Your Blog
You have chosen a domain name. Now it is time to host your blog.
A web hosting company is a service that stores the files that make up your blog on servers connected to the internet in such a way that they are accessible to your readers through your domain name.
The articles on your blog as well as the images and other content are all stored for you by the web host. All you need to do is connect your domain name with the web host's servers and you are good to go.
However, if you buy your domain name directly from your web hosting service, you will not need to connect the two as they will be connected automatically.
One important hosting tip if you plan to start a blog is that some hosting companies will offer you free domain name as part of your hosting plan. This may seem convenient initially, but will make moving your blog  hard.
There are lots of hosting companies to choose from. It is best to choose one with a good reputation. I currently use Namecheap and Qservers.net for my websites and they all serve me well. This blog, for example is hosted on Qservers.net.
If you want to start a .com.ng blog, then I will advise you to go for Qservers.net hosting.. Their Hosting and domain cost just N3,500 for a year and N350 monthly. If you buy N3,500 Hosting plan, then you will register your a domain name for free. This means, with just N3,500, you can own a blog like Naijafocus.com.ng. Follow this link and register your blog at N3,500 only.
I love Qserver because their server speeds are pretty fast when compared to the average speed of a lot of hosting companies.
With Qservers.net, you can easily make your payment through direct bank deposit of Transfer in Naira.
These days, because of the popularity of WordPress, good hosting companies now offer hosting services optimised to run WordPress very efficiently and Qservers.net is one of them when considering Nigerian based Hosting.
These are called managed WordPress hosting and are recommended if you plan to start a blog on WordPress. Here are some of the best WordPress Hosting.
Hosting a blog on Qservers.net will only cost you N3,500 for a year with a free .com.ng Domain.
Although most web hosting companies offer monthly payment options for their hosting plans, I will advice you to pay for at least 6 months if you seriously want to start a blog.
This is because, Paying for just one month at a time makes it difficult because you will be making expenses every month on renewal..
Making a long term commitment on your hosting can motivate you to push harder through the very trying early stage of blogging.
Choose Your Blogging Platform
A blog platform is an online software that enables you create, Design and maintain a blog. A blogging platform offers you an easy to use interface for posting content to your blog.
You can write, format, and edit your posts, as well as add photos and videos to your posts via your blogging platform.
The blog platform also creates an easy interface for customizing the look and feel of your blogs. They also offer plug-ins and widgets for extending the functionality of your blog and making it more useful to your readers.
Although, you can switch your platform at anytime, getting it right the first time is very important. Switching blogging platforms may require some technical skills. So, you should take your choice of a blog platform serious.
I should know, because I had to switch this blog to another blogging platform in 2016 and had to face a lot of challenges. So, I will advice that before you start a blog, you think long and hard about the blogging platform.
I will advice you to pick WordPress. Yes, WordPress was the blogging platform I switched to in 2016. I had outgrown Blogger (my former platform) and needed something more flexible and my self-hosted WordPress was it.
WordPress has thousands of plugins that you can use to add lots of functionality to your blog and offers the level of customization that no other blogging platform offers. In addition, WordPress has a large community of users that can help you with any challenge you may run into.
Note that there are two types of WordPress: WordPress.com and WordPress.org. The best and the most recommended is the WordPress.org, the self-hosted version. WordPress.com is similar to Blogger and have limitations.
So, I recommend WordPress.org because that is what I am using on all my blogs and it work perfectly.
Note: To avoid confusion, the rest of this article will focus on WordPress.org.
Now that you have gotten your Domain and Hosting and have also chosen wordpress.org as your platform, You are now going to install the wordpress.org software that will enable you to design, post and manage your blog easily
I am assuming you choose to blog with wordpress.org.
Installing WordPress is super easy.
Install WordPress From Your Control Panel
This tutorial is designed to show you how to use Softaculous to install a WordPress application to your site. It will take only few minutes and literally no advanced skills to have a fully functional WordPress instance in your hosting account.1. First, login to your cPanel account and find the Softaculous icon under the "Software Services" section. It should be located in the lower part of your cPanel page, right under the "Domains" section.2. Once you click on the Softaculous button, you will be redirected to the page where you have to chose the application you want to install. On the left side of your screen locate the "Blogs" category, click on it and then click on the "WordPress" link that will appear.3. On the next page, press the Install button at the top of your screen to specify that you want to perform a brand new WordPress installation.4.  Please note that by default Softaculous will install the application in a "wp" sub-folder. That being said, if you would like to be able to access the website only via your domain name you should delete the wp string from the "Directory" field and leave it blank. If you want to install the application in another sub-folder you should simply type it in the field.If you want to install this program into a sub-folder, enter the folder name here. For example, if you wanted users to visit http://domain.com/blog (instead of simply http://domain.com) to see your WordPress site, you would enter blog for this setting.
5.  Finally, enter the required fields for your site – title, description, administrative username and password, administrative e-mail etc. and click on the "Install" button. Note that it is good practice to change the default username "admin" and default password "pass" to your own settings as admin and pass are targeted by hackers.
You do not need to download anything neither do you need to upload anything. This is because, the best hosting services already have WordPress on their servers, all you need to do is to press a button to start the process of installation. In less than a minutes you could have WordPress ready to power your blog.
How to access your Cpanel
When your have successfully registered your hosting, your Cpanel link will be sent to the email you use to register. So endeavor to use a valid email when registering your Domain and Cpanel. After youe Domain has ben properly propagated, you will be able to access your Cpanel Through Yourdomainname.yourextension/cpanel e.g mysite.com/cpanel.
No matter the hosting company you choose, it will be easy to find the appropriate link or button to initiate the process of installing WordPress.
Once you click on the link or button, you will be required to specify the domain name you want to install WordPress on.
During setup, you will also be required to enter your site name as well as the username and password that you will use to log-in to the admin area of your blog. Your email address will also be required.
When choosing your password, make sure you choose something hard to guess. It is also a good idea to avoid using admin as your username.
Installing WordPress is easy and takes less than a minute and in the end you will receive an email with the link to the admin area of your blog where you can now continue building your blog.
Design your Blog The way you like with theme and Plugin.



With WordPress successfully installed it is now safe to conclude that you are now ready to start a blog.
You should now log-in to the admin area of your blog and begin to tweak the design. The first thing to consider is adjust the permalinks. Go to Settings > Permalinks and choose the post name option.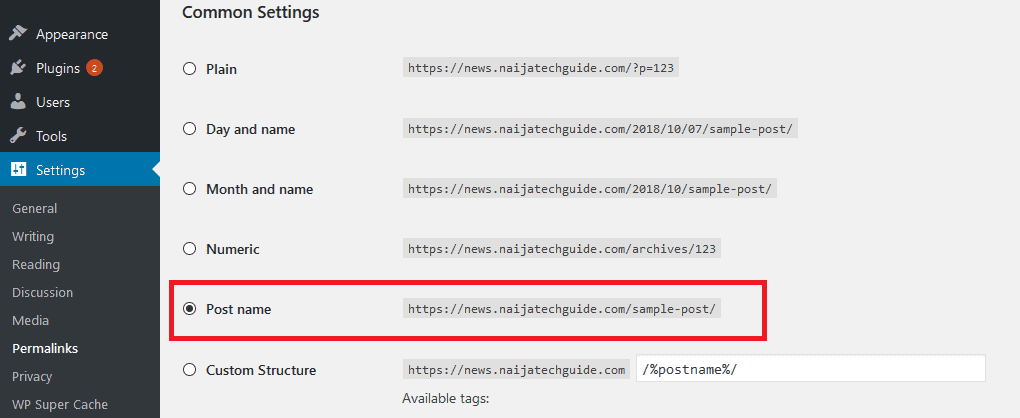 The post name option is the best for an SEO-friendly link.
The next task should be choosing a theme to use for your blog. There are a number of free themes that come with your WordPress installation. Just go to the Appearance > Themes section to pick a theme.
The themes you see in this section come pre-installed and are usually the default themes and the themes you installed yourself.
To see more free themes, click on the Add New button. Here you will see a lot of themes.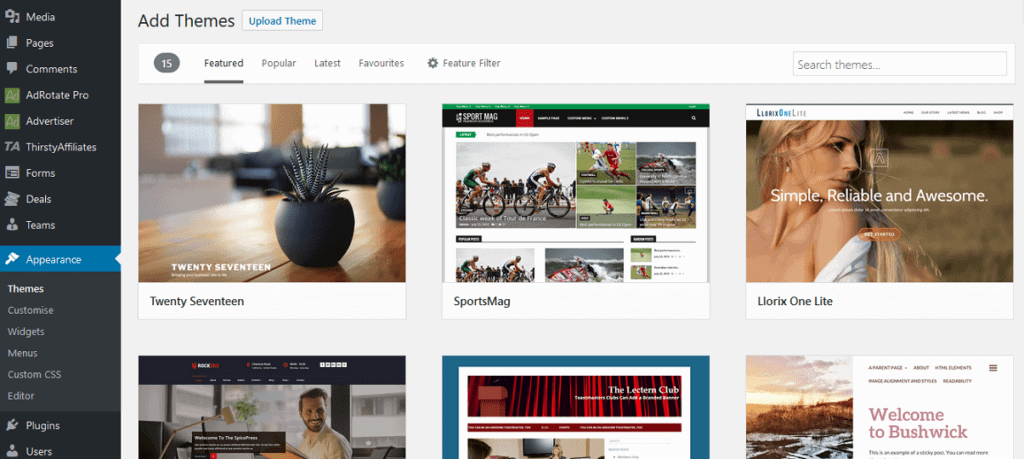 Point to any of the themes you like to reveal the preview and install buttons.
You can also just simply click any of the themes to get to a dedicated page for the theme.
You can also go to sites like ThemeJunkie, ThemeForest, or Mojo Marketplace to buy a more professional looking premium WordPress theme for your blog. A premium WordPress theme can cost between $30 to $50 a pop.
If you get your theme from a theme marketplace (or from any other source and built one yourself), you have to first download it (in .zip format) on your computer, and then upload it to WordPress.
To upload your theme to WordPress, go to the Appearance > Themes, then click on the Add New button. Click on the Upload Themes button.
Clicking on the Upload Themes button will reveal browse button.
Using the Browse button, fetch the theme files (in .zip format) from your computer and press the Install Now button.
After installing your theme you can customise it. Go through the Appearance section to see options available for customising your blog.
When starting a blog, it is a good idea to choose a theme with a responsive design. This ensures your blog adapts to different devices, from mobile phones to full fledged computers.
Installing Plugins To enhance Blog Beauty and Performance



At this point your new blog is good to go. You have everything you need to start blogging.
WordPress comes with everything you need, but with a few important plugins, you can supercharge your blog for success.
To install plugins, go to Plugins > Add New, then search for any plugin you want and install it.
Here are a few important and essential WordPress plugins if you want to start a blog the right way:
Yoast SEO: The best plugin to handle SEO for your blog. Handle metatags, content duplication, etc. Also creates a sitemap
W3 Super Cache: This helps in caching your blog. With a cache, your blog will load faster and use more bandwidth, which will ensure you do not easily over-shoot the server resources allocated to you by your hosting company. You may also W3 Total Cache.
JetPack: This are a suite of software from WordPress. They provide security and help your website load faster. You also get social share buttons, related posts, among other useful features.
WP Smush: This plugin will compress your images making them lighter, which will result in your blog loading faster.
Relevanssi: Offers better search capability than WordPress's built-in search.
There are thousands of plugins, but these five are enough to start a blog supercharged. As your need grows, you can install more.
You can also download premium plugins on your computer and then upload them to WordPress. Go to Plugins > Add New, then use the Upload Plugin button.
You have to install and activate a plugin before it can work on your blog.
Start Publishing Posts On Your Blog
While having a nice looking blog is great you should not focus so much on looks initially especially at the expense of building content on your site.
While you are designing a great looking blog you should also be adding great content to it. You need to learn how to write good content for your blog.
In case you are wondering what a great content looks like. Here is a brief characteristics of a great content:
It is useful and have keywords in all the right places
It must answer a key question (or one key question and a couple of related questions)
A Great Content must be unique
A Great Content is easy to read and understand
It includes images when necessary
Note that content is not necessarily just articles and text and images. Content includes videos, infographic, slideshows, podcast, webinar, etc
It is also important to add new content regularly to your blog.
SetUp Performance Tracking
Once you get a number of posts and writings under your belt (say 5 or 10 or more), you should then register your blog with search engine webmaster tools (like Google and Bing) and add tracking and analytics code (Google Analytics) to your blog.
The webmaster tools offer useful information about the SEO health of your blog. Make sure you submit an XML sitemap to help search engines index your site faster.
Tracking services like Google Analytics provides lots of useful information about your traffic and audience. These will enable you write better content to satisfy them.
Link Your Blog To Social Medias



Social Media is a big deals these days with billions on social media sites like Facebook, Instagram, Twitter, etc. This is why your blog need to be on social media.
Open social media accounts for your blog. You don't have to be in all of them. Choose the social site that is used by most people in your niche.
Build your fans and regularly share your content with them. Sharing your posts is very important because social is one of the signal search engines like Google use in determining relevance and authority.
Blogging is easy, putting Ads on your blog is also easy, the hard part is making money from your blog. Now let's see what you must do to make money from your blog.
Making Money With Your Blog
How To Start A Blog In Nigeria that pays… See how Top bloggers in the world manage to make $1,000,000 monthly from their blog here….
1. ADS.
This is the way 60-80% bloggers make most of their money from their blog and its seems to be the best way of how bloggers make their money. This means is good for bloggers who have a lot of daily visitors and pageviews.
Actually, there Rare many different kinds of ads you can display to make money from your blog/website. Some of them includes:
CPC/PPC: This is an abbreviation for "Cost Per Click (also called Pay Per Click) ads. This kind of ads are usually banners that you place in your content or sidebar and each time a visitor or reader clicks on them, then you get paid automatically.
CPM : This is an abbreviation for Cost Per Miles also called "cost per 1,000 impressions". In this kind of ads, you are paid a fixed amount of money for every 1,000 page views (not visitors) on your blog/website.
Ads can be displayed in the form of banners, buttons, or links etc. depending on your choice.
The best sds to use to make money on your blog
See the best ads company for Nigerian bloggers here
Google AdSense.
propeller
Chitika.
Infolinks.
Media.net.
How much can you make from this.
Many bloggers make upto $5,000 monthly income from displaying ads from advertising networks.
Recommendation: very good.
2. SELL PRIVATE ADS SPACE.
When considering how bloggers make their money from ads, we don't consider working with advertising networks as the only option. Many other big bloggers, make thousand of dollars from private ads by selling ads space on their blog/website. The only criteria to making huge money from this type of ads is to have enough traffic. If you have a enough traffic on your blog, some advertisers will come straight to you to help them advertise their products and services by placing their ad on your blog/site. But in a situation where no advertiser comes to you, then you can contact them yourself and request them to work with you. The best thing about this type of ads is that, you have full authority and power to determine how much you charge advertisers per ad.
How to display this kind of ads on your blog/site.
This kind of ads can be displayed as
Banners.
Buttons.
links.
The best way to achieve this is to create private partnerships with advertisers and businesses that do display adverts.
How much can you make from this.
Many bloggers make upto $3,000 monthly income from displaying private ads.
Recommendation: very good.
3. Affiliate Marketing
This is how bloggers make their money in recent time. Here, all you need to do is to include an Affiliate Links to you content that will redirect your visitors/readers to other website when clicked.
How bloggers make their money from Affiliate marketing
Affiliate marketing is a super way of how bloggers make their money. Generally, bloggers make money from Affiliate marketing a s follows:
Steps
Advertiser meet with the blogger or website owner to introduce the product he or she wants to advertise.
They both will negotiate their commission/charge per buyer that comes from your link displayed on your site.
The advertiser will then give the site owner a unique link to paste on his or her site. This unique link comes with affiliate code that will enable the the advertiser to track and know when a buyer used your link to make a purchase.
You will then be paid the agreed amount on any purchase product from a buyer that you refer through your affiliate link.
The best way to achieve this is to create private partnerships with advertisers and businesses with an affiliate program.
How much can you make from this.
Many bloggers make upto $4,000 monthly income from Affiliate marketing.
Recommendation: very good.
4. Sell products
This is yet another big way of how bloggers make their money. Here, the website owner Sell Digital Products on their site for themselves or for other people and make huge profits. There are two categories of products to sell on your website. This categories include:
Digital Products
List of Digital Products to sell on websites.
eBooks.
Online courses/workshops.
Images.
Videos.
Musics.
Apps.
Plugins.
Software.
Themes.
Services.
Content Marketing
You can also make your website a content marketing tool that will drive visitors and customers to your business website which will end you much more cash.
physical products
you can also sell physical products on your website and make more money. Some of this physical products includes:
hand-made products.
Books
manufactured products, and so much more
Clothing products
Kitchen products
House appliances. The best way to succeed in this is to start a business blog or an eCommerce site.
You can also refurbish and resell used products from your home. You could use a blog to attract visitors to your website where you list your current products for sale.
How much monthly income can you make from this.
Many bloggers make upto $3,000 monthly income from selling products
Recommendation: very good
5. SPONSORED CONTENTS:
This is another big way of how bloggers make their money. Sponsored posts are one of the types of native ads bloggers use in making money.
Sponsored contents which is also known as advertorial, have been around traditional media for a while. sponsored post usually rest somewhere between a blog post and traditional advertisement. A sponsored post is a lot more educational than a traditional ad and it carries extra weight because it's comes from an influencer. That influencer can be an individual, or it can be respected blog or publication.There are two ways to go about sponsored content: You can accept sponsored content on your site or you can work with influencers who are willing to publish your sponsored posts on their site.
How much can you make from this.
Many bloggers make upto $2,000 monthly income from sponsored post.
Recommendation: Good.
6. Selling Membership space
Another good way of how bloggers make their money is selling memberships space to it users. This is case, you can put a login form and request users to pay and register before having access to some services. For example, a website might charge $50 for users to gain access to their job board. Or maybe a startup business blog might sell memberships to their forums where people can get personalized advice about their business. NOTE: Your exclusive membership service has to be more valuable and considerable than something your visitors can find for free somewhere else, so be sure you are developing something of value and worth the money they pay.
How much can you make from this.
Many bloggers make upto $1,500 monthly income from selling membership space.
Recommendation:Good.
7. Render service.
There are several services you can render as a blogger to make money. If you checkout the list of how bloggers make their money, you will find out that there are a lot of ways you can make money as a blogger from your site.
Some of them include:
Writing post for other people
Supply backlinks space for bloggers
Build and design website for other people
Show other people how you make your money
Teach other people how to blog.
Advertise peoples business etc.
You might now be wondering how to build your authority and traffic. Well, it is not an exact science, but this is an article about how to start a blog and make money. So, the least I can do is share some tips.
How to Build Traffic and Authority
You want to start a blog that makes you money, don't you? Here are three steps to guide you:
Research the most popular needs, desires, problems, issues, wants, etc of people in your niche.
Research the best solutions for these needs, desires, problems, issues, wants, etc
Produce good quality content (articles, videos, podcasts, infographic, etc) that satisfies or provides solutions research in step 1 based on your research in step 2.
Do these consistently without ignoring all the other tips dotted around this page and you will end up a successful blogger.
So, for beginner bloggers planning to start a blog, my recommendations are simple. Learn how to build your authority and traffic first and keep making money for later.
Even if you place 1 million ads on a blog with little traffic and poor authority, it will make nothing or very little. So, now you know the secret of how to start a blog and make money.
MORE DEALS:
If This post was very interesting to you, THEN Naijafocus.com.ng plead with you to tell others about us by sharing this with your friends all over the internet.Please feel free to ask us any question, you can also make any contribution, suggestion, complaint or request using the comment box below ↓
We also have many other things to offer you.. Get Jobs Here, Get Scholarships here, Learn how to make money Online here, Apply for latest Recruitment here.